Top 5 Interior Designs Idea for a Fabulous Bedroom
Published : 7th August 2019 in Interior Design tips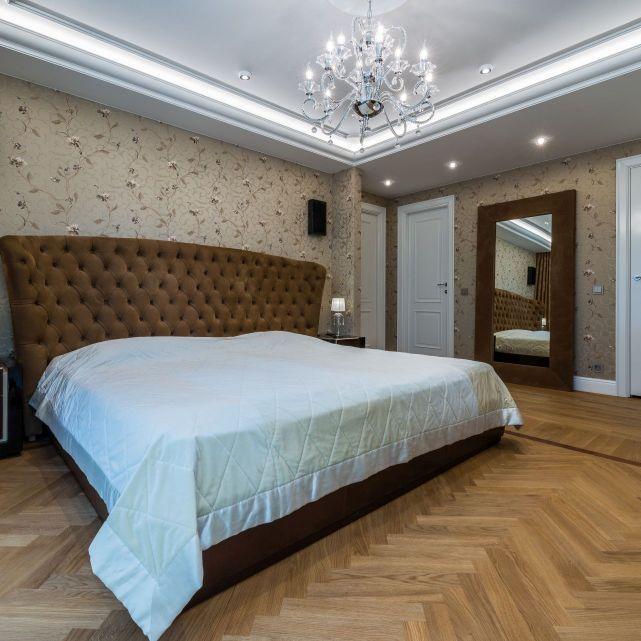 Your bedroom is probably the one place in the world where you find the most comfort. Whether you've had a long day at work or you've come back from an adventurous vacation, you look forward to the idea of flopping down in your bed and curling up with a mug of hot chocolate. Some people will love nesting in the messy cocoon of their room, others prefer everything to be in its place, but the one thing everyone shares in common is that you want a room that makes you happy. Here are some easy interior decorating ideas to make your room your own little safe haven.
1. Choose the Right Headboard
No matter how big or small your bedroom is, your bed probably occupies a fair amount of space. The bigger the bed, the more noticeable it'll be. Don't settle for a standard, straight cut headboard. Find something that's a little more interesting and comfortable to sit against when reading in bed. Whether it's a velvet headboard with ridges or a wooden one with intricate carvings, find the one that fits with your aesthetic designs and desires.
2. Express Yourself
A bedroom is your own personal space so do whatever you want with it. Whether it's a feature wall with posters of all your childhood favourite comic books, or a wall with whiteboard paint so that you can jot down whatever you're thinking, the possibilities are endless for individual creativity.
3. Have Some Symmetry
Decide on your ideas based on how much space you have. If you have high-ceilings and full-length windows, you can opt for long mirrors, large frames and bigger furniture including antique, carved pieces. In a smaller space, make if feel more open with lighter colours and multifunctional furniture (such as having an all-in-one) nightstand, side-table and dresser.
4. Make it Comfortable
You want a room to feel comfortable and relaxing, not harsh and cold. A great way to make your room more inviting is to have a rug or two in the room. Whether it's a shaggy robin's egg blue rug to match your wallpaper, or a bright, almost neon rug as a standout piece in a monochromatic room, the choice is yours.
5. Introduce soft mood lighting with Uplighting Cornice
The bedroom is the most intimate room in your house and it is important to get the mood just right with soft, subtle mood lighting. Dimmable, coloured LED's fitted inside uplighting cornice removes the cold and harsh direct light that modern energy-efficient bulbs emit. Different sizes and profile shapes exist to suit all budgets, and the bonus is that even if you already have a coving in place, these mouldings will amplify the beauty by reflecting the light onto and across the ceiling.
Whatever interior decorating choices you make, it's a good idea to have a consistent theme throughout. However, at the end of the day, it's your personal room to be as creative with as you like.