A Kitchen for Everyone
Published : 18th October 2019 in Interior Design tips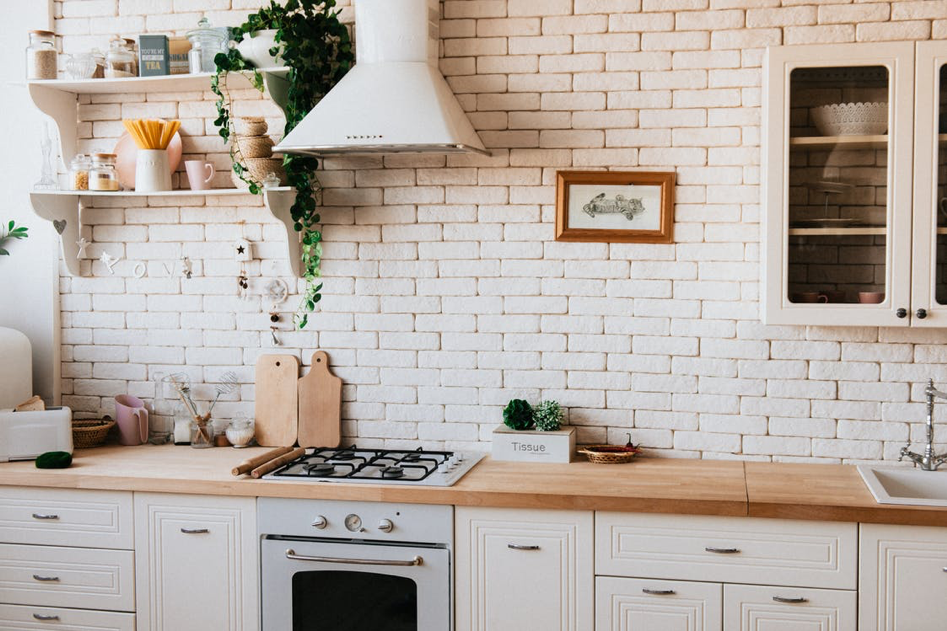 In the not so distant past, cooking was usually a task for the housewife of the family, whilst the husband went out to work and came home to a lovingly prepared meal. Nowadays, a large majority of people enjoy preparing their meals together. From college students in their dorms to parents cooking for their children, the kitchen is probably the most well-utilized room in the entire house. So how about you make those meal preparation times more enjoyable by bringing some life to your kitchen? Here are some interior decorating ideas that'll make you want to become a culinary expert just so you can spend more time in the kitchen.
Have a Foodie Feature Wall
With most of the wall space being taken up by shelves, an open wall is a great way to show your creativity in the kitchen. If you're good with a brush, you can paint a mural of your choice or you can find other ways to get creative such as having a wall featuring pictures of you at different restaurants or trying new foods in different places. Many people now enjoy taking pictures of their amazing looking meals on their phone, and this will provide great memories and talking points (not to mention inspiration) if printed out and framed on the wall. And the wall – if painted in a bright, fresh colour – can breathe life in your kitchen. If you have a dining table in there as well, it'll give you something to look at and reminisce over while you enjoy the latest culinary masterpiece.
Select the Right Floor Tiles
You may have grown up watching Tom and Jerry's signature black (or navy blue) and white chequered kitchen floor tiles. That's because they're so much more memorable than just a regular floor. You can match your kitchen floor tiles to the theme of your kitchen. If you have red, black and white cabinets, a simple white floor is a good idea: you don't want to clutter the room too much. If you have one-toned cabinets such as metallic grey or matte sky blue, choose a livelier tile pattern.
Use Hidden Cabinets
You want to make the kitchen feel spacious and airy. If you already have cabinets fitted in and you want to store some more stuff (such as table cloths, dinner napkins and such), you may not have any more storage space immediately available. If you have an island counter in your kitchen, be clever and get a secret set of drawers built in under the island. That way, anytime you're ready to eat, just slide your hand down and pull out whatever you need.
Make preparing your meal as enjoyable as eating it with a well-designed kitchen. And the best part? You can achieve all this without having to hire a professional interior decorator.